For those of you who regularly follow this blog or who follow me on social media, you may have noticed that I've been a bit quiet recently. I love writing this blog, as well as catching up with my online friends via social media, and reading/commenting on other blogs, but for the last few weeks this has been on the back burner while other things go on.
I blogged about solo parenting a few weeks ago, and in the last 6 weeks I've had two lots of week-long sessions of dealing with the kids, the pets and the house on my own, whilst running my childminding business too. I love my kids, I love my pets, and I love the children I mind, but by the end of the day I am fit to collapse into bed when I'm doing it alone, rather than sit in front of my computer/phone. Sorry.
My FiL has been mentally ill for many years, and his state has recently deteriorated, necessitating a trip from Hubs to France, and many discussions between the two of us over what we can do to help, all of which has been emotionally-draining and taken up many an evening.
On the bright side, though, Hubs and I were lucky enough to escape to Sharm-el-Sheikh for a week's holiday en tête-à-tête, to celebrate our 10th wedding anniversary (which was in August but I was still breastfeeding then, so leaving C wasn't an option). My incredibly fabulous parents came and house/baby/child/pet sat for a whole week while we luxuriated in the peace and quiet of a child-free holiday. There is a blog post coming on that at some point, until then here is a hint of the paradise we experienced:
Work-wise, I'm still loving the childminding that I'm doing, but the baby I've been looking after has moved out of London, so I've been trying to find another playmate for Baby C, which has been fairly stressful, and very time-consuming. However I'm delighted to share the news that I have found someone and it's a perfect fit, so all's well that ends well.
On top of all of the above, it seems that our household has been fighting the usual winter bugs for about the last 6 weeks or more, which means children are waking more often and mummies are needing more sleep, which in turn means less "stuff" gets done.
Finally, whilst on holiday I read a very interesting book called "The Emotional Energy Factor: The Secrets High-Energy People Use to Beat Emotional Fatigue". I highly recommend it to anyone feeling tired, or overwhelmed, especially if you can't figure out why (if your kids are preventing you from sleeping this book won't help unfortunately). It made me take a long, hard look at my life and (re)prioritise certain elements, so you'll see me putting my phone down more often and ignoring my "to do" list to take my girls to the local park. It means I'm less efficient, but I'm happier and more fulfilled.
Anyway, I just thought I'd share with you where I'm at, and to let you know that I hope to be back, fully functioning next week.
To my beautiful baby girl,
Today is your 1st birthday so it seems the right time to write you this letter (which will only make sense to you when you are much older).
Daddy and I had been together for 5 years when we had your big sister, L, and we really wanted a baby, so we knew we would be so happy when she was born. We then had 5 years together as a family of 3 before I became pregnant with you. Our family life seemed perfect and although we felt we ought to have a second child the time was never right.
After settling into our new London life we decided it was time to try and provide L with the baby brother or sister she desperately wanted. A couple of months after L's 5th birthday I found out I was pregnant with you.
We were happy, but it was different this time round; when I was pregnant with L I was happy for Daddy and me, but when I was expecting you we were so happy for L. I think Daddy and I could have been happy with just one child, but L had been asking us for a baby brother or sister more or less since she could talk.
Whilst I was excited about the pregnancy, and about meeting you for the first time, it was very different from when I was pregnant with L. On Monday 12th November 2012 I woke at around 2am with stronger contractions than usual, and part of me had a hunch that today was the day.
I won't go into the whole story of your birth as I've already written that here, this time I want you to know what your birth meant to me. I was less excited about the birth – probably as you were a second child, as I was already busy dealing with our first child. I also wondered how you might fit into what was our perfectly happy family. How would your arrival change the dynamics?
Then you were there, my second daughter, you were placed on my chest, and suddenly everything felt right with the world. You were the missing piece of a puzzle I hadn't realised existed. I already loved Daddy and L so much that I wondered where I would find the love for another person. Then you were there, I looked down at you, so similar to L, yet so different, and I just knew that the love was already there.
Suddenly, a year ago today, I fell head over heels in love with you. My second baby. My second girl. In case you ever wonder (as people are crazily insensitive sometimes), Daddy and I are delighted you are a girl, in the same way that we would have been delighted if you'd been a boy. You are you – our baby, boy or girl, it doesn't matter to us. However, I have to be honest and tell you that your big sister wanted a sister far more than a brother, so she was in heaven!
A year on, and it is hard to remember what life was like without you, when L was an only child, and didn't have a baby sister to dote on and who adored her in return.
Our family is now wholly complete, where we didn't realise it was lacking previously. You are a beautiful person, on the inside, like on the outside, and Daddy, L and I could easily spend all our time with you, watching you develop, grow and learn.
So what is my 1 year old baby like? You are an incredibly chilled baby – you take pretty much everything in your stride, and not much fazes you, you are inquisitive and funny. You are almost identical physically to L at the same age, with your lack of hair, big eyes, long eyelashes and petite body. You are so close to walking and have just started treating everyone to your new trick of blowing kisses, which is just too adorable.
I might not have realised how much I wanted you before your birth, but I can tell you that from the second you were born you were wanted and loved with a passion. You are my second baby, and my second daughter, but you and L are both equal in my eyes, and I love you both more than you can ever imagine.
Happy birthday to our wonderful, special, unique, beautiful C! One year of happiness and fun with you, and here's to so many more years.
Lots and lots of love,
Mummy xxxxxxx
This past year with C has been full of magic moments, so I'm linking this post up to The Oliver's Madhouse magic moments, click below to read other magic moments: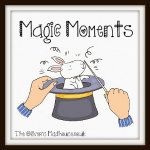 First of all I apologise for using the C word before the end of October, but I love Christmas and with children it's even better!
This will be our 8th Christmas with our own little ones and each year just gets better. We love the understanding that L has of Christmas now, and the fun that brings. Although last year she went to her friend's Hanukkah party and decided she'd like to become Jewish; I told her that was fine but then she couldn't have Christmas anymore, to which she replied "how about, instead of being half English and half French, I can be half Jewish and half French, because the French are all about Christmas, they won't make me give it up"!
We love the fact that L now has a baby sister, C, to share the excitement of Christmas with, and having a baby at Christmas again is great fun too.
For as long as L has been big enough, we've let her decorate the Christmas tree, as she loves doing it. This has meant choosing the decorations and putting them on the tree, where she wants and how many she wants.
For the last few years this has meant lots of bright pink and silver tinsel and baubles from the local pound shop, which as you can see makes for an interesting looking tree:
Whilst I love the fact that she decorates the tree, her way, I would love a classic-looking, attractive tree. There is some hope though, as she seems to have been getting her style on this year, and has pointed out some far better-looking decorations that she would like for this year. In particular we both agree on the gorgeous John Lewis Rural Life Collection for this year:
Photo credit © John Lewis website
Now we just need to convince Hubs as I think he has been enjoying the tacky bling bling of our recent Christmas trees!
Do you let your children decorate your Christmas tree? If so, please reassure me that your trees look as "gorgeous" as ours?!?
Disclosure: This is a sponsored post. As ever the words and opinions are my own – come back around Christmastime to see which decoration style wins this year!
If you follow me on social media you'll know that I was solo parenting last week – from Saturday early afternoon a week ago until last night, to be precise. Hubs was away in Morocco on holiday with his twin brother and their best friend (and his best man from our wedding); he'd just finished a pretty stressful job, and has got a fair amount on his plate with an ill father, so it seemed right that he spend some chill time with these two key people.
Within 24 hours I was regretting encouraging him to go, I was already wiped out. I know there are lots of people who solo parent day in, day out, and I totally take my hat off to you, because it is tough. I did feel quite proud, when I finally collapsed in front of some catch-up Downton episodes with my glass (bottle) of wine, last Saturday night – I had single-handedly walked the dog with both girls (with C in her Ergobaby carrier), bathed them, fed them and got them to bed, and more importantly to sleep.
I was feeling all very smug, and then it started to go downhill. The first night L was ill, and was up again and again. She was awake when I went to bed at 11pm, we then saw 1am together, and 2am, then we had a bit of a snooze break before sharing the joys of 4am and 6am. I was then awake for the day and joined by C at 7am (L was asleep again at that point).
After a bad night's sleep Friday night, followed by our up and down night Saturday night, Sunday saw me ready for an early night. I hit the sack at 10pm as I knew I had to be up early, but L had passed the baton on to C, and she woke me at 11.30pm, 3.15am and 5am. Fortunately each time it was just brief crying and she self-settled but it was enough to wake me up and I struggled to go back to sleep after the wake-ups.
I knew Monday morning was going to be tough – I had to collect the baby I childmind from the local train station (a 10 minute walk away) at 7.45am. This meant getting up at 6am to hoover the lounge, have a shower, breastfeed C, get me and L dressed and head to the station (breakfast would be upon our return). All was going to plan until I went to get C and discovered the biggest poo explosion ever, sorry for the TMI! It was a total change and baby wipe all over body wash.
Whilst this was happening L decided to climb on the side to look in the sweet cupboard, in doing so she set the (empty) microwave off, and yes, in my tired, stressed out state, I shouted at her. Which resulted in tears and cries of "you don't love me anymore, you don't want me, you only love and want C!". Just what you want to hear at 7.30am on a Monday morning.
Of course she didn't want to leave the house then as she wanted breakfast first, and didn't want anyone to see she'd been crying. Somehow I managed to get all three of us out of the house, just 5 minutes late. Then as we were walking along, L suddenly cried out that it hurt "down there", and wanted me to look and see what it was. So, in front of Pizza Express, I tried to jiggle knickers and tights, discreetly, so we could be on our way.
We managed to walk another minute before she started howling again, this time we were in front of Sainsburys, and in full view of everyone in the car park and all the commuters heading towards the train and tube stations. I told her she'd have to sort herself out this time as I was terrified of being arrested! After a very un-discreet sorting out of herself we carried on our way.
We made it home and through breakfast without any further drama, but if you saw me on Monday morning and wondered why I looked so haggard so early on in the week, now you know why.
Most weeks I find that the time flies by, but I have to say that last week crawled along, as both girls had disturbed nights every night, except one, while Hubs was away. I've aged about 20 years and have such a newfound respect for single parents.
The hardest part was attempting to juggle it all: a 6 year old, an 11 month old, walking the dog, feeding and dealing with the dog and 3 cats, childminding 2 other children 10 hours a day and hosting two different groups of French guests, not to mention all the usual household chores (washing, shopping, cooking etc).
I'm delighted to say that Hubs is back now, I am sharing the parental responsibility and work, and breathing a sigh of relief. Now bring on my holiday!
For those of you who don't know, the girls and I were recently filmed for a Channel 4 programme called Health Freaks as I was talking about using amber beads to ease the pain of teething for my daughters. If you missed it you can watch the episode here: http://healthfreaks.channel4.com/
Since this aired last night my social media feeds have been going crazy with a mix of reactions; mostly positive with own personal experiences of amber working, but a few sceptical, negative and generally ignorant. So I thought I would take to my little corner of the internet here and set some things straight.
Does amber work to ease the pain of teething in babies?
Unfortunately I can't give a yes/no answer to this question, but I can give you my experience.
Experience 1:
L was the most chilled baby in the world, never gave us a sleepless night, literally from the get-go. Then at 6 months she started teething and our chilled world came crashing to the ground, suddenly sleepless nights became standard, and nothing was helping. We were in France and she would be fully dosed up on Doliprane (the Calpol equivalent), Advil (the Nurofen equivalent), Camilia (teething homeopathic medicine), we gave her teething rings to gnaw on, chopped up vegetables kept cold in the fridge, but nothing worked. She was a screaming baby about 20 hours out of 24.
I kept being asked whyI wouldn't put an amber necklace on her, as if I was some kind of wicked mother, out to torture my baby by depriving her of this pain relief. I kept refusing to get one as I justified to myself that I would rather have a teething baby than a strangled baby. Then one day I was told that the amber necklace doesn't need to be worn around the neck, it can put on a wrist or an ankle, as long as it is against the skin.
So I got one for L and we put it on her wrist. I was totally sceptical, but I was at my wits' end and was prepared to try almost anything (within reason!). Hubs didn't believe it for a second but it wasn't very expensive and we couldn't see any danger, so we went for it.
Within a week the screaming baby had been replaced by our chilled out baby again. And no, as someone on Twitter stated, it was not because she had finished teething, she wasn't even 8 months old when we got the amber necklace for her. She then went on to teeth, getting 2-4 teeth at a time, with no discomfort at all. In fact she got 4 molars at once which we barely noticed. Even Hubs who called it witchcraft and wizardry had to admit something was working.
Experience 2:
C started drooling and munching on her fist at around 4 months old, and as I couldn't handle sleepless nights after having yet another chilled baby (I know how lucky I am!), I put an amber necklace on her at around 5 months old. She now has 8 teeth, and they have all come through with us barely noticing their appearance. C wears her amber necklace under a sock and this summer when it was glorious it was too hot for her to wear socks, so I took them, and the amber necklace off and forgot about it, then a couple of weeks later she was really grizzly, and I couldn't seem to pull her out of it. I noticed she was displaying quite a few signs of teething so thought I'd put the amber necklace back on and see what happened. A day later the grizzles went and a week later two more teeth popped out.
Interestingly when we were filmed for Health Freaks she was teething, and a couple of days later she got two more teeth, so you can see how she is when she's in full teething mode!
So whilst this is far from any kind of scientific proof, something about it works for me and numerous friends too. I'd say that about 80% of my friends/acquaintances in France use(d) amber necklaces for teething and found they helped. Up to you to draw your own opinion.
Is it safe?
Now, this is the big question. I can't guarantee its safety for you, but I can tell you what risk assessment I did before using it:
I would NEVER use it as a necklace and I don't condone this. The strangulation risk is too high and babies are more likely to fiddle with it here.
I put C's necklace on her ankle (wrapped round twice) and worn under a sock, this way she is not really aware of it and leaves it alone.
Only get amber necklaces/bracelets/anklets where each bead is knotted on individually. This means that should it break only one bead will come off, so any risk is minimised.
What happens if a bead comes off? Well, considering the size of the beads I'm not too worried – judging by the contents of C's nappies she swallows blueberries and sweetcorn that are far larger than the amber beads. I am also a paediatric first aider and C's primary carer, so I know what to do in a choking situation should the worst happen.
Is the amber itself safe?
This is a tough one. If the amber is rubbing against the skin and sending something into the baby's skin/blood, how safe is that? My answer is – I don't know. But equally I don't know how harmful a lot of the things I give my children are; how harmful is giving them Calpol, Nurofen, vaccinations, certain readymade baby foods? L wore hers for nearly 2 years, she is nearly 7 now and I can't say I've noticed any side effects. Again I decided that the risk was minimal and I was happy to use this on my daughters.
I can't tell you what to do, and I certainly wouldn't want to either. But it works for me. I've weighed up the pros and cons and I think the risks are worth taking, I can't (and wouldn't want to) wrap my kids up in cotton wool.
Over to you now – do your own research, decide what's best for you and go for it. Your life, your babies, you decide.
Cast your mind back to the dim and distant, pre-child, past. To an era where time was your own, you could laze in bed all day, watch back-to-back box sets, wander on down to the pub for Sunday lunch. Remember it? Then children came along. Which was amazing. Well most of the time. But all that time you used to have totally disappeared.
I remember this hitting Hubs and me when L was about 10 months old. We were working hard Monday to Friday, then instead of relaxing at the weekend we were parenting. Which, despite L being a very chilled out baby, was no walk in the park. After a particularly knackering week Hubs turned to me and said "I need a me day, we can't carry on like this". I was gutted. He regretted our baby, he didn't want to spend time with his wife and daughter.
Then he explained that he needed time off from work, but also from running round after a crawling baby, not because he didn't love us or want to spend time with us, but because he needed some downtime. Once I got over my shock it made sense. And so Franglaise Family adopted "me days".
This is how it works for us – every weekend one of us has a me day which consists of not walking the dog, not dealing with our daughters, not doing any chores or anything on the to do list. Whoever's me day it is can do what he/she wants without raising an eyebrow from the other one. My recent me days have consisted of a day watching Downton Abbey episodes with my cousin and eating junk food whilst putting the world to rights; another day saw me lying on the sofa and reading a fab book all day (by a favourite author – Diane Chamberlain); another me day had me shopping in central London followed by a long, leisurely pub lunch with friends.
So what happens when it's not your me day? Well, that's a bit tougher but not necessarily less fun. You get to have some quality time with the kids. In general we try and take them out of the house to leave the one relaxing in peace and quiet. In the past I have taken L on the London Eye and to the nearby Sealife Aquarium (we have a Merlin pass for these attractions so entry is "free"), I recently took L and C to the cinema, and Hubs has taken them to Richmond Park and Kew Gardens while he's been on duty.
What it means is that once every two weeks we get a real day off, time to ourselves to relax and recharge our batteries which truly is priceless. Then the other week we get to spend quality time with our daughters, to take them out and just really enjoy spending time together.
I can't recommend this system enough, especially as absence makes the heart go fonder, so when you are reunited with the children at the end of the day it's just the best feeling
A while back I talked about being filmed for a Channel 4 documentary on home remedies where I would be talking about my experiences with amber beads for teething. Well the time has come for that programme to air! The first snippet is now online and can be viewed here.
The show starts on Monday 21st October and I'm in the first episode with L and C. It's on Channel 4 at 8.30pm and is called Health Freaks. So if you want to see what I have to say about amber necklaces and teething, or you want to see what I sound like/what the three of us really look like (outside of just photos on this blog) then tune in.
Disclaimer: If I look like an idiot then it's all down to poor editing
When I was pregnant with L, 7 years ago, I wondered what she would look like. I always said I hoped she took after Hubs physically and me personality-wise, as he was devil-baby and I was angel-baby, and it turned out to be that way more or less. When she was born she was Hubs's spitting image and everyone used to call her his mini-me.
Fast forward 6 years to when I was pregnant with C, and again I wondered what she might look like. The only baby I could visualise was L, as she was the only baby that I knew that well. However I couldn't imagine having two siblings that look alike. That might sound strange, but let me explain. I am one of five children (same parents) and none of us look in the slightest alike, here we are as children:
So I did wonder whether my two babies might resemble each other, whilst finding it hard to imagine at the same time. Then C was born and though she was similar to L as a newborn it didn't go any further than that. Around the time C was 3 months old I started to look at photos of L as a baby and that's when it hit me, they were almost identical! Just recently I dug out a picture of L at 10 months old and put it next to an equivalent picture of C – and I realised I had twins!
Funnily enough it's not just the physical similarities either. When L was born in France nearly 7 years ago I didn't read (or really know about) any parenting books, so we just went with the flow with regards to feeds and sleeps, and she settled herself into her own little routine, was an incredibly chilled baby who slept through pretty much from the get-go.
6 years later I wanted C to fit into our existing routine, so from birth we went down the Gina Ford route….for 6 weeks, then L was on school holidays, Hubs was on paternity leave and I couldn't see any sense in setting an alarm for 7am to wake my sleeping baby. So I didn't. And the strangest thing happened. C slipped into the same routine that L had developed on her own 6 years earlier. And C then started sleeping through from the dream feed to 7/8am in the morning. That I could definitely handle.
So not only do my girls look like twins, but they also seem to have a very similar personality (that remains to be seen as the years go by though!). It really is the strangest thing for me: my two girls are like twins, yet I am one of five and we couldn't be more different. Out of the five of us four have lived/live abroad (New Zealand, Cyprus and France) and career-wise it's very varied too: I've worked in languages, marketing/PR, teaching and been a PA, then we have a business owner, a doctor, one in the City and another in the police force. I wonder where my girls will end up, and as what…..??
What about you? Are your children alike? What about you and your siblings? I'd love to hear what your experiences are.
I am so lucky to have the amazing daughters that I have, similar or different, it doesn't matter, they are just perfect. I'm linking this post up to The Oliver's Madhouse magic moments, click below to read other magic moments: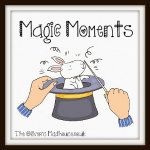 A throw away comment from a 4 year old recently made me stop and think. I had told her that Hubs was in bed as he was ill, and she replied "my daddy goes to bed when he's ill, but my mummy doesn't, she looks after us". And this made me stop and think. It's the same in our house. But it didn't use to be that way.
Before I went on maternity leave last August we had a 5 year old daughter, Hubs and I worked full-time, 5 days a week, and we had a live-in au pair. If I was too ill to go to work (which admittedly was fairly rare) I could take time off, and actually go to bed and get better. Our au pair would deal with our daughter, and Hubs would deal with other household chores whilst I was recovering.
Then I went on maternity leave. And decided not to return to my old job, but to retrain as a childminder. Which means there is no au pair. There is no back-up plan now. When C was a few weeks' old I got flu (yes, despite having the flu vaccine when pregnant – apparently there are different strains), I felt awful and there was no way I could deal with a 6 year old and a small baby. Fortunately my parents don't live too far away, are retired and very generous with their time when it comes to their children and grandchildren, so my mum came and looked after the kids whilst I got better.
However in general I try not to ask my parents too much, and I do try to keep going. And that's where you'll find me today. Battling on. Everyone in the family has had this cold/flu bug that's been going round. I thought I'd escaped it, but on Monday evening it hit. Since then I've been fighting the sinus headaches, sore throat, achy neck, clicky ear, achy joints and shivers.
Fortunately the girls are amazing sleepers so at least when I go to bed I'm not disturbed. But I have to say this is the only time I miss my old job – getting sick days. So today, these, along with the kids, are my company:
The full title of this post should actually be: No sick days for Mummys or why I haven't blogged at all or been on social media much in nearly a week. Normal service should hopefully be resumed soon.